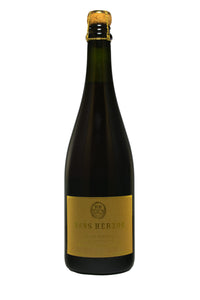 Cuvée Thérèse, Vintage 2016, Sparkling Rosé, Méthode Traditionnelle, brut nature
Regular price $89.00 Sale
Introducing our Vintage Méthode Traditionnelle, an exceptional and exclusive Rose brut nature with zero dosage. Meticulously handcrafted using only the highest quality, handpicked organic grapes, and wild fermented in small, artisanal batches. Just like the most prestigious Champagne, our wine undergoes secondary fermentation and aging in the bottle for over six years, culminating in an extraordinary depth of flavour before the disgorgement process. With no sugar added during disgorgement, it stands as a testament to the inherent richness of the carefully selected, sweet grapes. Revel in its impressive opulence, relish the rich and creamy yet dry texture that graces your palate, and savour the intricate fusion of luscious berry aromas, delivering an unparalleled and refined taste sensation.
Disgorged February 2023 - Aged 6 years on fine lees. 
Vintage 2016

+
A beautiful warm, dry summer and perfect growing season. We sacrificed some of our low  cropped organic Pinot Noir and Chardonnay to handpick two weeks before full ripeness (when we picked for the dry wine) for more acidity and less fruit sugar but much later and with better ripeness then normally harvested for Sparkling wines.
Hans Winemaking Comments
+
"Crafted with meticulous attention, each of my wines upholds quality over quantity, particularly evident in our approach to Sparkling wines, where we prioritize finesse over high dosage. Instead of high yields and premature harvesting, we dedicate ourselves to selecting riper fruits, abundant with luscious berry flavours, natural concentration, and intricate complexity. These exceptional grapes undergo gentle crushing and destemming, followed by a brief cold maceration to ensure minimal skin color extraction. A wild natural fermentation and 10-month aging on the fine lees take place directly in 500-liter French oak puncheons. The 'liqueur de tirage,' a blend of yeast, wine, and minimal sugar, instigates a secondary fermentation. A maturation period of 6 years on lees in the bottle surpasses the 3-year minimum for Vintage Champagne. For reference - only the best and most expensive Champagne is aged for five years or more. After 'remuage' (ridling), no dosage is added post-disgorgement, resulting in a dry, Methode Traditionelle brut nature of the utmost refinement, akin to a very wine-like expression."
Tasting Notes
+
'Rosé brut nature or zero dosage' is an invitation to revel in the most explosive of pink 'Champagnes' redolent of the magnificent natural flavours of the fruit. Seductive aromas of red berries with fine bubbles and the rarity of a zero sugar dosage, make for a uniquely natural sparkling wine impressive with its opulence of ripe fruit yet with a refreshing finish. Cheers to the health perks of zero dosage and no sneaky sugar additions!
Technical Data

| | |
| --- | --- |
| Varieties | 80% Pinot Noir, 20% Chardonnay |
| Alcohol | 14% |
| Residual Sugar | >1g/l, brut nature |
| Disgorged | February 2023 |
| Ageing Potential | 7+ years |
| Bottles Produced | 60 |
Food Matching Suggestions
+
Indulge in its refined perfection for a sophisticated cheer, or savour it alongside delectable seafood dishes, enhancing the delicate flavours, or with the subtle elegance of smoked salmon.
Sweetness Levels of Champagne

+
| | |
| --- | --- |
| Brut Nature | or 'pas dosé, dosage zero' contains zero dosage and less than 3 g/l |
| Extra Brut | 0-6 g/l sugar  |
| Brut | less than 12g/l sugar |
| Extra Dry | 12-17g/l sugar  |
| Sec | 17-32 g/l sugar |
| Demi-Sec | 32-50 g/l sugar |
| Doux |  more 50g/l sugar |